"We will never change the world by going to church, we will only change the world by being the church."
Pastor Charlie Wilfong joined the PUMC staff on July 1, 2014 as Lead Pastor. Prior to PUMC, he enjoyed the ministry of a district superintendent, shepherding and coaching pastors and congregations . After serving seven years on the district, he is glad to be serving a local congregation and preaching regularly. His passions for ministry include preaching, shepherding, prayer, leadership, and coaching church leaders and volunteers.
Charlie and his wife Donna have two beautiful daughters. Daughter Abby teaches Math and Science and lives in Jeffersonville, Indiana with her husband, Jacob Kerns. They live at the grand-childrens' house – Bryan (10 yrs.) and Josie (1 yr.) Daughter Jessi graduated from Prosser School of Technology in Culinary Arts. She is at home in Clarksville, Indiana with Uno, the cat. The majority of the week, you can find her at Texas Roadhouse, where she is a server.
Pastor Wilfong's credentials include:
B.A. Pre-Theology, University of Evansville, 1980
Master of Divinity, Honors, Emory University, Candler School of Theology, Atlanta, 1985
And his Record of Service:
Ordained an Elder in the United Methodist Church in 1987
Pastor, First UMC, Williamson, GA, 1982-1985;
Associate Pastor, Central UMC, Evansville, IN, 1985-1986;
Associate Pastor, Central UMC, Richmond, IN, 1986-1992;
Pastor, Trinity UMC, Madison, IN, 1992-1997;
Pastor, Old Capitol UMC, Corydon, IN, 1997-2002;
Senior Pastor, Greensburg UMC, Greensburg, IN, 2002-2007
District Superintendent, New Albany and South Districts, 2007-2014
Hannah joined the PUMC staff on July 1, 2020. She graduated from Garrett Evangelical Theological Seminary in May of 2019 and was commissioned at Annual Conference in June of 2019. She grew up in Fishers, IN and graduated from Fishers High School. Hannah completed her undergraduate education at Hanover College in southern Indiana. She majored in psychology and minored in theology and gender studies.

Hannah met Cody, her husband, while at seminary and they married shortly after Hannah graduated. They collectively wrote their own liturgy for their wedding. Hannah and Cody currently reside in Avon, where it is just the two of them. They hope to add a fur baby sometime in the near future.

Outside of work, Hannah enjoys reading, taking long naps, watching football and auto-racing, eating ice cream, and spending time with her husband.

Hannah is the pastor for the New Day Praise service, so please feel free to email her with any questions you may have.
Ken Loudenback joined the staff of PUMC on July 1, 2015.

Ken is a family man, married to his lovely wife Kim for over 30 years. They raised their three children Trevor, Kayte and Laura at Wesley United Methodist Church on the Westside of Indianapolis. Ken and Kim have 8 grandchildren. The family attended Wesley UMC for over thirty years and have been members for over 25. Ken had been Lay Leader at Wesley for many years and has served as faculty for the Indiana UMC Central District Lay Servant School teaching lay speaking I and II. Kim is a retired church secretary who worked at Wesley UMC.

Ken holds a BA marked with distinction from the School of Business at Indiana University with dual designations of Management and Organization and Human Resource Management. Ken answered his call to pastoral ministry officially in 2014 and is pursuing his License to Preach. Ken has preached and led worship at several Methodist Churches in the Central District these past few years. Ken has also been an active member in the Gideon Ministry for the past five years.

It is Ken's hope to become a viable part of the ministry of Plainfield United Methodist Church serving in the ministry areas of Discipleship and Missions. Ken has many years experience leading community-based organizations (Little League Baseball and Football) and is currently President of Indianapolis Downtown Optimist Foundation. Ken is also President and Principal of Lew White Tours. He has been richly blessed and wants to return his blessing by helping others find their "Way" by shining Jesus Christ's light of Love through Christ-like words and deeds which can be discovered in the Bible and the work of the Holy Spirit in our lives.

Ken bases his Call on Isaiah 6:8, "Then I heard the voice of the Lord saying, 'Whom shall I send? And who will go for us?' And I said, 'Here am I. Send me!'"
Pastor of Youth Ministries
Bob joined the full-time staff at the Plainfield United Methodist Church in the fall of 2004 to develop and lead youth ministries. Bob began in youth ministry as a volunteer at the First United Methodist Church in Chicago, and then for many years led the youth ministries at the Northbrook United Methodist Church in northern Illinois.

Bob lives in Plainfield with his wife Diane, and they have three awesome daughters; Karen, Kimberly, and Kelly. As a teenager growing up in Connecticut, Bob found significant enjoyment playing drums for numerous garage bands, playing football and track, going to concerts, performing with theater groups, and finding high adventure in wilderness camping and canoeing. He has great memories of retreats and week-long bike trips with his church's youth group, and all the numerous times and places spent hanging-out with friends. Bob continues to enjoy sharing the interests and activities of youth, and he loves a good road trip.

For over twenty years Bob has served a calling to share Jesus Christ with teenagers. He focuses his gifts and experience on providing this generation of teenagers with modern worship, experiential Bible teaching, and opportunities for growth through a variety of settings that communicate the relevancy of God's truth in their lives.

Bob has a master's degree in business and served The United Methodist Church for many years as the Director of HealthFlex, a health benefits and insurance program that served nearly thirty thousand United Methodist clergy and employees nationwide through the General Board of Pension and Health Benefits. Bob currently serves as a member of the South Indiana Conference Committee on Insurance.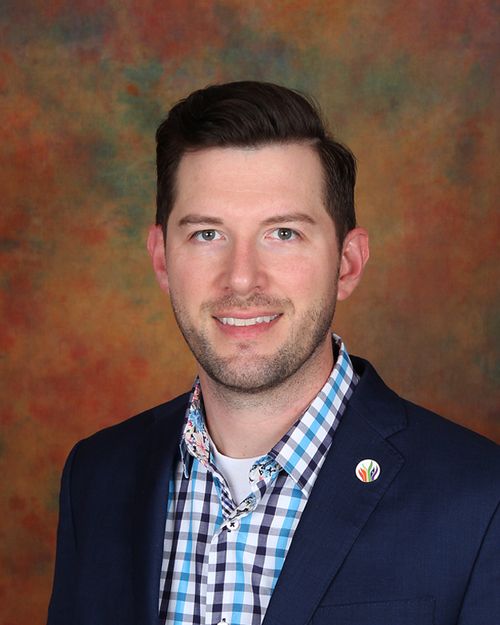 Jacob Tipantasig-Wolverton
Director of Worship Arts | Director of Children's Ministries
Jacob Tipantasig-Wolverton, Director of Worship Arts | Director of Children's Ministry, was born and raised in Benton County, a rural area of the northwest territory of Indiana. He first joined the staff of Plainfield United Methodist Church in September of 2009 as the Associate Director of Music until May of 2013. He brings over 20 years of experience in directing both traditional and contemporary worship. Jacob currently resides in Avon, IN with his husband, Luis Tipantasig-Wolverton, where they have two fur babies (Sebastian & Kendall). Jacob has served several churches throughout the midwest in children's ministry, youth ministry & worship ministry. Jacob returned back to PUMC as the Director of Worship Arts & Director of Children's Ministry, spear heading the NewDay Praise Worship service as the main worship leader.

Jacob holds his Associates Degree in Biblical Studies & Bachelor of Ministries from White Horse School of Ministries in West Lafayette, IN. Jacob then went on to earn his Bachelor of Arts in Music Education from St. Joseph's College in Rensselaer, IN. He is a versatile musicians, conductor, and educator whose performance experience breaks down barriers between audiences and genres of music. His ability to transcend worship styles to meet each group has been a testament to his ministry. He has gained success with each of his ensembles: concert choirs, vocal jazz ensembles, children's choirs, handbell choirs, volunteer church choirs and praise teams, as well as musical theater. His passion to see souls reconciled to the Lord has been seen both nationally and internationally as he has preached and led worship for worship festivals in his career. His music draws from experiences in creative arts, choral music, contemporary Christian music, and his love for the Word of God.

Jacob is an active private voice, piano, and music theory instructor in the community. His desire and passion is to see this generation of musicians excel in their gifts and talents, and to find a love for music and God that will impact their lives for the future. Jacob believes in multi-generational worship, and holds true to the teachings of Jesus that taught "let the little children come unto me..." Jacob encourages everyone, no matter their skill level, to join the PUMC Worship Arts Ministry with a heart to worship our Lord and Savior from a place of gratitude.
Lynn Blosser joined the PUMC staff in 2017 as the Bell Choir Director. PUMC Chancel Bells and shares the leadership of the Friday morning Bible study. She is thrilled to be able to give leadership to the three PUMC Bell Choirs and credits this opportunity to God's leading.
Lynn has taught Bible studies, Sunday School classes, children's choirs, youth choirs, adult choirs, handbell choirs, musicals and dramas throughout her career. She is known for starting groups where there were none and making musicians of persons who had no prior experience in music. She is a certified lay speaker and has been called upon to preach on many occasions.

Lynn Blosser grew up in a musical household. Her mother was a church choir director and her father was a tenor in a Gospel quartet. She and her five siblings all took piano lessons, played a musical instrument and at one time or another sang in their mother's church choir. But perhaps more than her siblings, Lynn loved her church and the music of the church. Stricken with an illness at fourteen months old and not fully diagnosed until she was seven, her church family and her love of music was her joy. Today she would say that her Rheumatoid Arthritis was a gift because it brought her close to God and that music was the avenue that God used to lead her down her life's path and help her make a difference in the lives of others.

Lynn graduated from the University of Indianapolis with a Bachelor of Science degree in music education and flute. She was sent out by the University of Indianapolis and Christian Theological Seminary to work with youth in the United Methodist Camping program for six years. From there she accepted the position of Music and Drama director of the Fort Wayne Good Shepherd United Methodist Church. It was at that church that she met, and later married, the late Pastor Ted Blosser and served seven congregations in northern Indiana as a pastor's wife, teacher and musician.

Lynn is a proud mother of Dr. Daniel C. Blosser, director of music at Christ Church United Methodist Church in Louisville and his wife Susan Blosser who is also a music teacher. Lynn's two grandsons, Drew and Ben are lovers of music, too.

Learn more about PUMC's Music Ministry and the PUMC Bell Choirs here.
Nick Fennig grew up in Indianapolis, where he sang for a decade with the Christ Church Cathedral Choir of Men and Boys, serving as Head Chorister under Dr. Frederick Burgomaster. He began his organ studies with Mary Ellen Burgomaster, Ted Gibboney and Hyeon Jeong. Nick graduated in 2004 with a B.M. in Organ Performance and Church Music from Northwestern University, studying with Douglas Cleveland and Richard Webster. He continued his music studies with John Walker at the Peabody Institute of Johns Hopkins University in Baltimore.

Nick has most recently been serving as a substitute organist around Indianapolis. He has been an intern, organ scholar, organist and choirmaster at several churches, most recently as organist of First Congregational UCC, Indianapolis. Previously, he served as Director of Music & Organist at Church of the Nativity (Episcopal), Indianapolis and staff singer at the Cathedral Church of St. John the Divine (NYC) under Bruce Neswick and Church of the Holy Apostles (NYC, Chelsea) under David Hurd. He previously worked in New York City with Patrick Allen as Intern in Church Music at Grace Church, in Baltimore as Organist & Choirmaster at Memorial Episcopal Church and in Philadelphia at both the Lutheran Church of the Holy Communion and Grace Epiphany Church.

Nick's other passion is serving those Hoosiers living with HIV. He is excited about his new position starting in July as an HIV Care Coordinator at Eskenazi Health. In his free time, he enjoys biking, needlepointing, traveling, spending time with his nephews, and exploring Indy.
Who am I?
Follower of Jesus, husband, father of 3 & "papa" to 7, human to a Staffordshire terrier & a persnickety cat, lover of yacht rock, ska, and jam bands, foodie, and multidisciplinary designer. I work to communicate the glory of God and the love of Jesus Christ to everyone, both online and in real life.

What I do?
Communication Specialist for Plainfield UMC since 2014. If it's printed, posted or sent, there is a good chance it has crossed my desk.

What I know?
Adobe Illustrator, Photoshop & InDesign, real life and online design, social media, video editing, photography, email, and how to smoke a mean pork shoulder.
Following a long tenure as a classical music radio announcer and school music accompanist, Brent joined the PUMC staff as Office Manager in May of 2015. He
enjoys helping the many ministries at PUMC to grow the church in both faith and action!

Brent is a graduate of Columbus North High School, and earned degrees from the University of Indianapolis and Ball State University. He also boasts an impressive
collection of Monopoly™ games and accessories. His wife Jenny is a 7th grade math teacher at Brownsburg West Middle School, and his son Jonathan is now
studying engineering as a Purdue Boilermaker! Brent and his family reside in Brownsburg, where they enjoy church and school activities, as well as hosting their
now-legendary fondue parties!

Rebecca is a member of PUMC and joined the church staff in 2018 as the Financial Administrator & Treasurer. She and her husband Mark, daughter Gracen and son Mark Jr have been attending PUMC for over a decade. She is currently involved at PUMC in the Friday Morning Bible Study, Sunday morning Coffee Hospitality and making candles for the Homeless Outreach mission.

Rebecca received a Bachelor of Arts in International Studies and Business Administration from the University of South Carolina in 1996. She served as a Vice President of Bank of America specializing in middle market commercial credit products.

She took a few years off for the unpaid but highly rewarding job of "stay at home" mom. She loved her time with her wonderful children and all of those childhood activities such as a Sunday school teacher, soccer coach, PTO Santa Shop manager and regular classroom volunteer. Her husband, Mark, works at Rolls-Royce in LibertyWorks with a PhD in Electrical Engineering. As a family, they are avid campers and during the summer months can be found exploring Indiana's beautiful state parks.

Rebecca was thrilled to get the opportunity to return to the finance world while also serving God and her church family. Please feel free to contact her with any questions!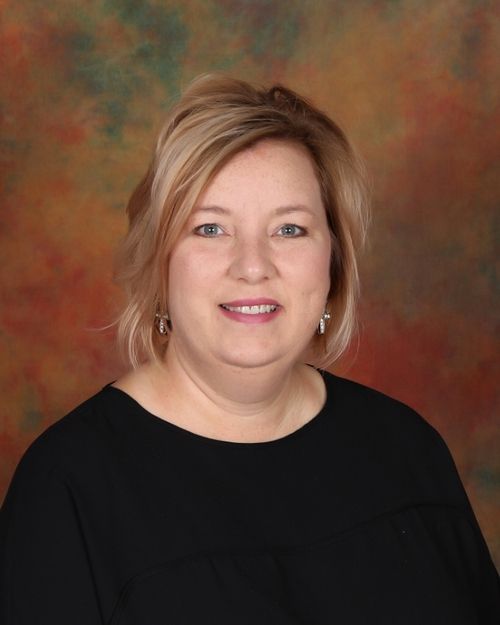 Assistant Director of Children's Ministries | Preschool Programs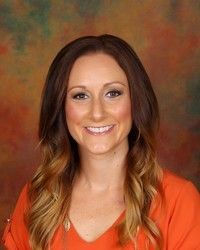 Assistant Director of Children's Ministries | Kids Connection
Carissa loves to teach and provide for the children of this community. As Director of PUMC's Kids Connection (Out of School) Program, Carissa is responsible for all aspects of this program that provides care, academic support, and supervision for Plainfield students grades K-5 before and after school during the school year and all day during school breaks. Carissa works with a caring staff to provide fun and safe activities, tutoring and homework help, healthy snacks, as well as field trips and learning enrichment experiences.

After receiving her Bachelors in Elementary Education in 2005 and working many years in the public-school system, Carissa found "her home" working at PUMC as a Pre-K teacher in 2013. She became the Director of Kids Connection in May of 2017 while continuing to teach Pre-K.

Not only does Carissa have a passion for teaching she also has two children of her own. Cash and Laya both attend Van Buren Elementary, the same school she and her husband, Brandon Wooden, attended. Brandon has worked as a HVAC tech for Vasey Commercial heating and air for 20 years. Brandon and Carissa were both born and raised in Plainfield and enjoy raising and coaching their own children in many sports right here in the community.

Working with children has always been Carissa's call and she loves to watch them grow academically and spiritually. She feels great comfort in knowing that parents put their trust in her to provide care and education for their children here at PUMC.

Learn more about Kids Connection here.