Join us for the PUMC Concert Series! We are excited to restart the series in September 2021. Follow us on social media for concert details.
All concerts are free of charge, but we welcome a goodwill donation to help us continue to offer these events to the Plainfield community.
The Musicians of PUMC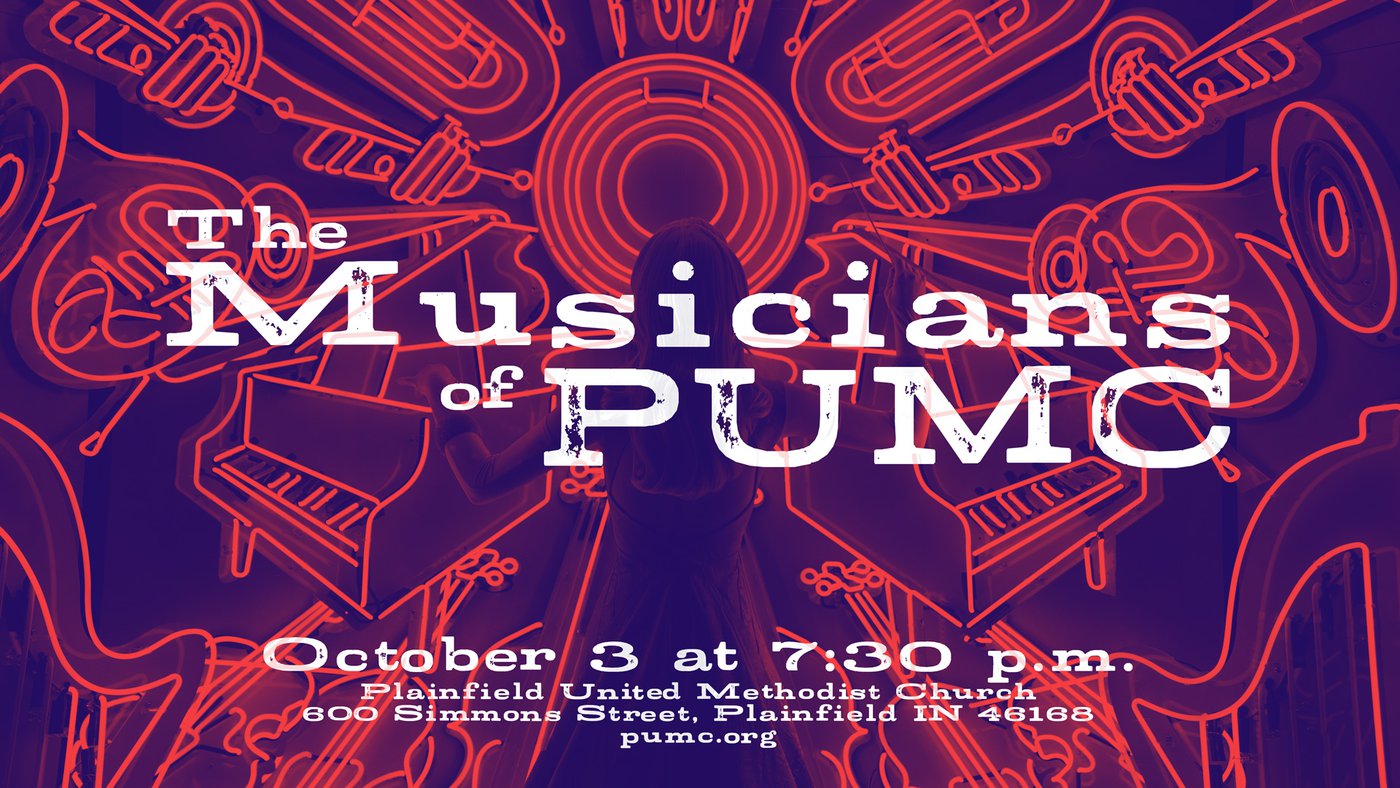 OCTOBER 3, 2021 • 7:30 pm
Plainfield United Methodist Church kicks off the return of the concert series with the Musicians of PUMC! Join the Sanctuary Choir, Bell Choir, NewDay Praise Band, and PUMC Staff soloists for an evening of live music!
Organ Spooktacular featuring John Schwandt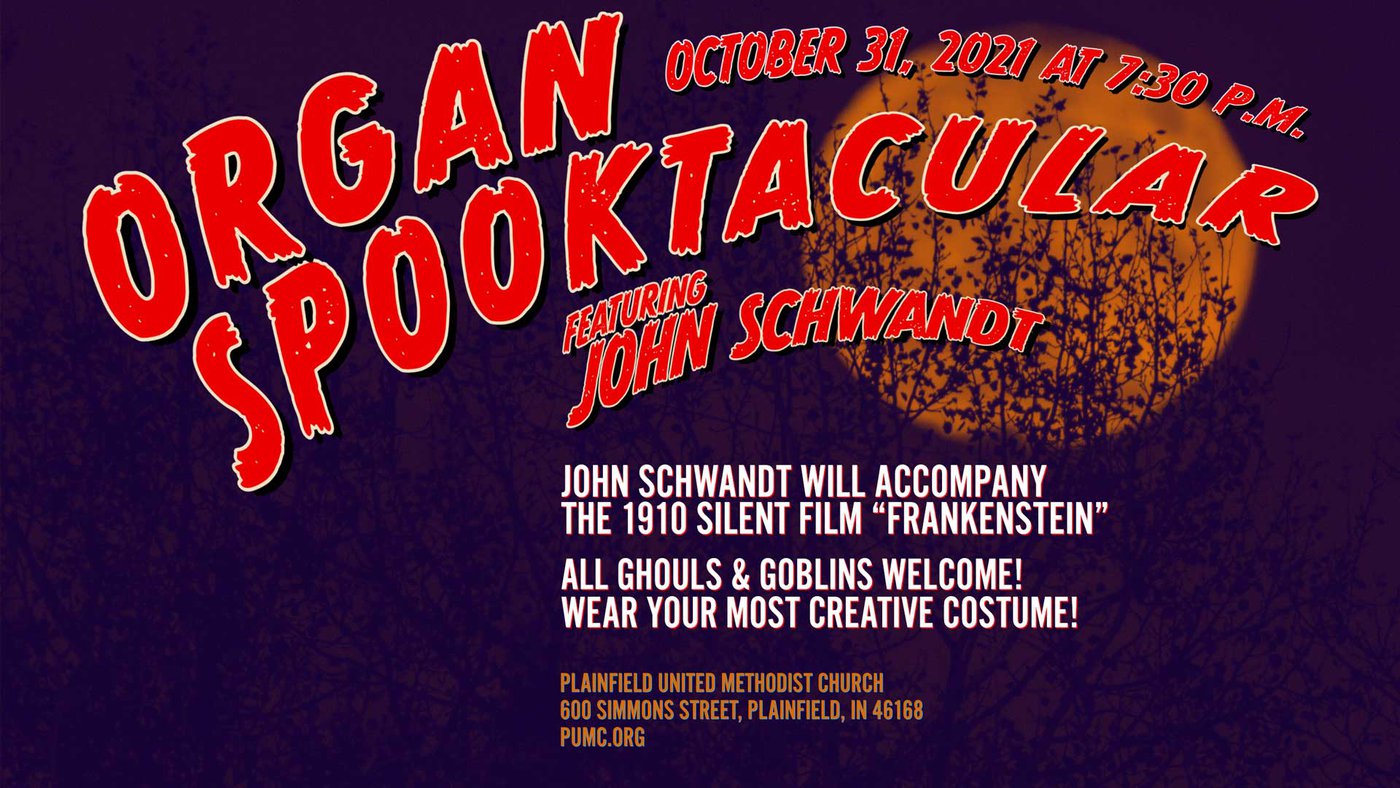 OCTOBER 31, 2021 • 7:30 pm
Join us for a night of tricks and treats as guest organist John Schwandt presents a concert of spooky organ music! Bring your family and friends, wear your most creative costume, and enjoy a night of entertainment. All ghouls and goblins are welcome!
CAROL-A-THON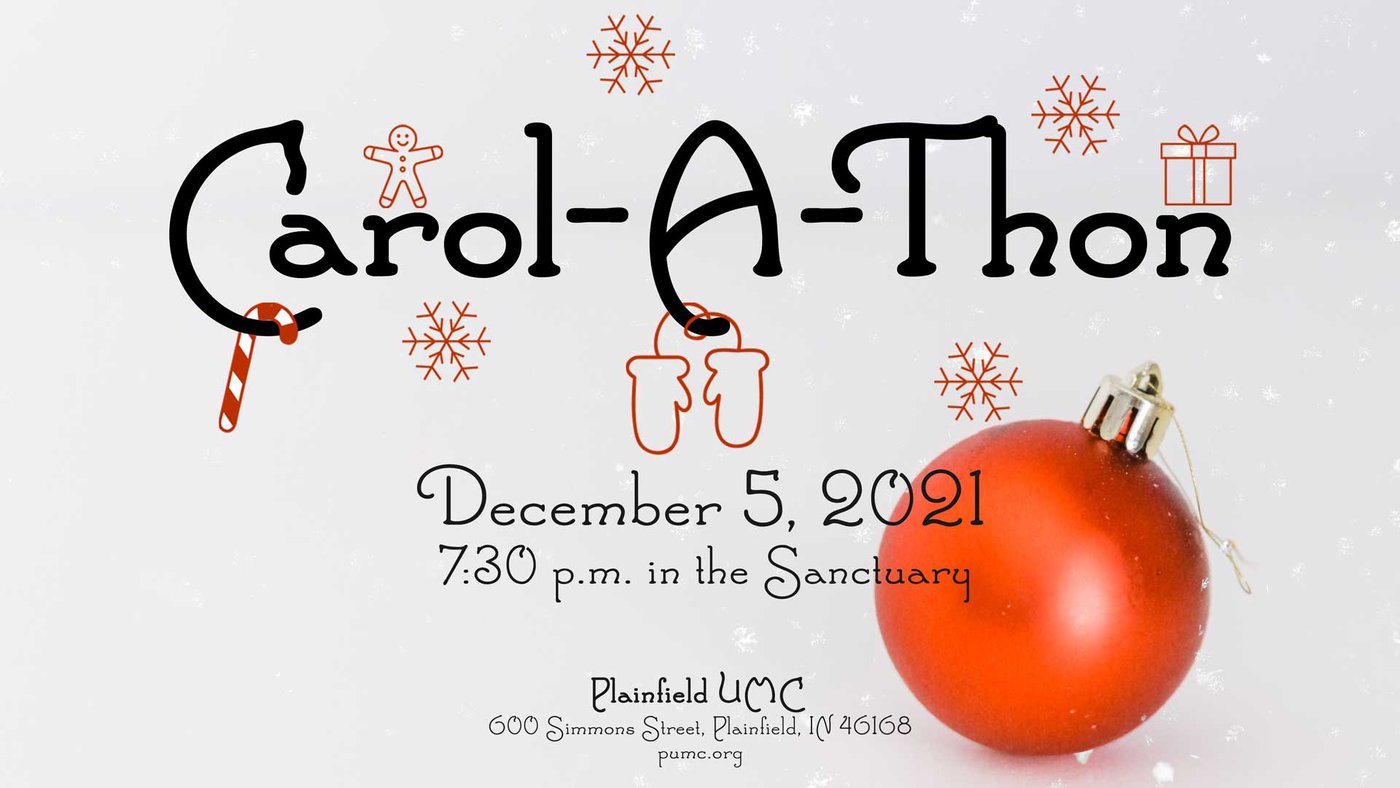 DECEMBER 5, 2021• 7:30 pm
Do you love Christmas? Do you love sing-a-longs? Are you ready to Deck the Halls, Let it Snow, or exclaim Joy to the World?
If you answered "yes" to any of these, join Plainfield United Methodist Church for the 2021 CAROL-A-THON on Dec. 5, 2021!
You decide the content of the sing-a-long. Between Nov. 15 and 28, you can donate toward your favorite Christmas song from our selection. The songs with the highest donations will be featured in the sing-a-long on Dec. 5 at 7:30 pm at PUMC.
You can donate by check (enter the name of your song in the notes line) or online by selecting "Carol-a-Thon" on Secure Give (be sure to enter the name of your song in the message line!)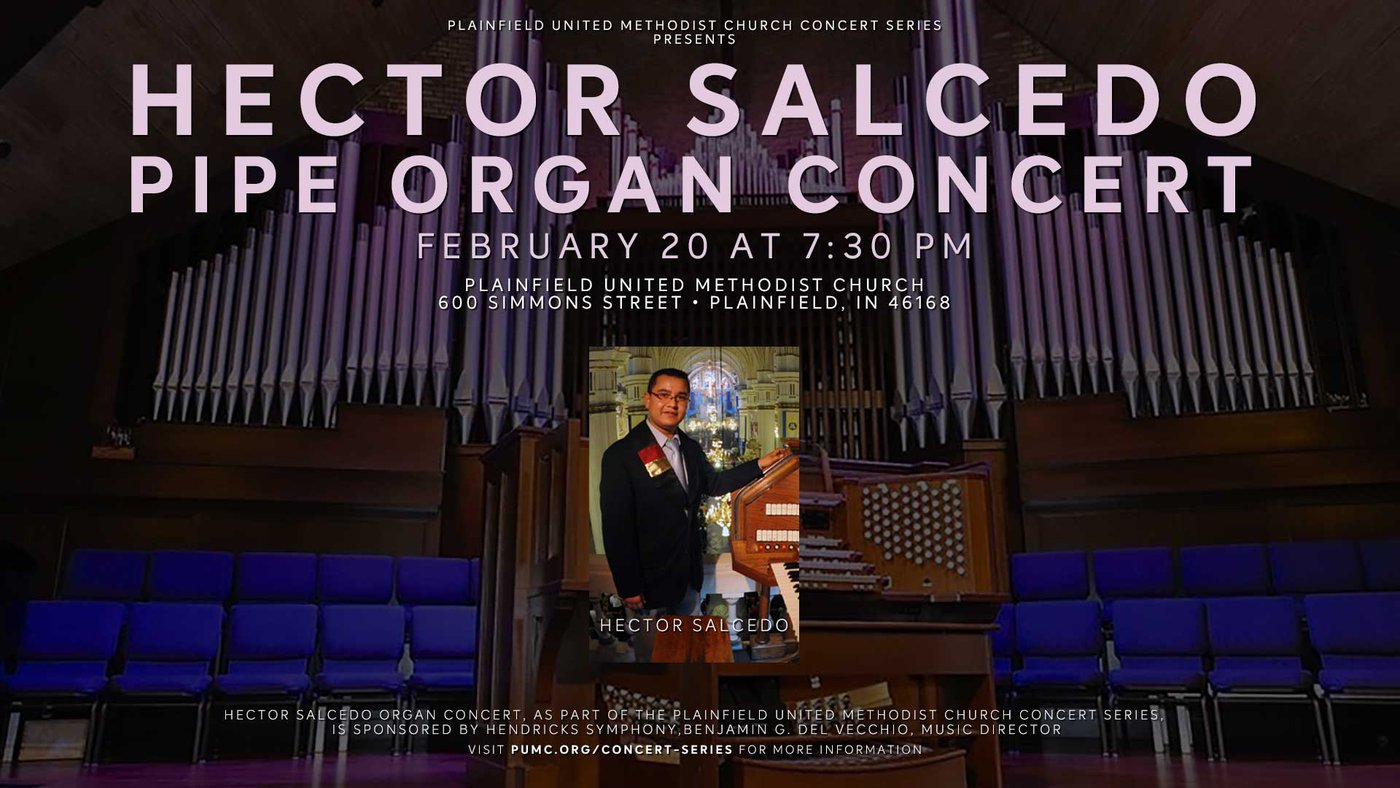 Hector Salcedo, Pipe Organ Concert
FEBRUARY 20, 2022 • 7:30 PM
The PUMC Concert Series presents Hector Salcedo at the pipe organ on February 20, 2022, at 7:30 p.m. in the PUMC Sanctuary. The Hendricks Symphony sponsors the concert, Benjamin G. Del Vecchio, Music Director.
Hector Salcedo (b. 1980 in Jalisco, Mexico), started his musical studies at age eight at the "Escuela de la Misericordia" in Ocotlan, Jalisco. In 1998 he obtained a scholarship for studying at the Sacred Music School in Guadalajara, Mexico, where in 2002 he achieved a B.A. in Gregorian Chant and Composition under the guidance of professors Domingo Lobato, Leonor Montijo, Manuel Cerda, and Francisco Javier Hernández, among others.
In 2003 he was awarded a scholarship to continue his studies at the Pontifical Institute of Sacred Music in Rome, Italy, where in 2006 he received the degree in Composition, in 2008 the BA in Composition with professor D. Italo Bianchi and in 2011, his Master's degree in Composition with Monsignor Valentin Miserachs, former President of the Institute and former Director of Music at the Basilica of Saint Mary Major in Rome. His final exam included writing a full Mass for symphonic orchestra and an Oratorio for two choirs, five soloists in the same orchestral template upon a given theme in fifteen days.
In 2012 he obtained his Master's degree in organ with Professor P. Theo Flury, O.S.B., and a Postgraduate in Organ improvisation and Contemporary Music with the same Professor.
During his years in Rome, he was named Music Director at the "Oratorio de S. Francesco Saverio al Caravita", and also organist at the parishes of S. Pius V and San Marco al "Campidoglio". He was also an assistant organist at St. Peter's Basilica in the Vatican and a member of the choir "Cappella Giulia" and "Coro del Vicariato," both at St. Peter's.
He has attended several organ retraining courses in Germany, Italy and Spain, with professors Harald Vogel, Arvid Gast, Felix Friedrich, Giancarlo Parodi, Jürgen Essl, Jesse Eschbach, Stephen Ferr, Michel Bouvard, Louis Robbiliard, and Bernhard Marx.
In 2008 he was awarded the First Prize at the International Composition Competition "Associazione Musicale Amici Della Musica Castellana Grotte" (Ba) in Italy. His compositions have been performed in Italy, Spain, Albany, South Korea, South America, Mexico, and the USA.
His career has led him to play many concerts as an organist and pianist in Mexico, Spain, and Italy, and he has served as an organist in Switzerland and France.
He was Music Director and Organist at the Metropolitan Cathedral of Guadalajara, Jalisco (Mexico), from September 2012 until January 2017. He was also the vice principal at the Academy of Sacred Music in Guadalajara.
During his stay in Guadalajara, he had several performances with the Jalisco Philharmonic Orchestra, including performances at the "Bellas Artes" Theater in Mexico City.
On September 28th, 2019, he was awarded the Third Prize in Organ Improvisation Competition at the University of Michigan.
He is currently the Music Director and Organist at St. Malachy Catholic Church in Brownsburg, Indiana, serves on the Liturgical Musical Commission of the Archdiocese of Indianapolis, and a Member at-large 2020-2023 of the Indianapolis Chapter, American Guild of Organists.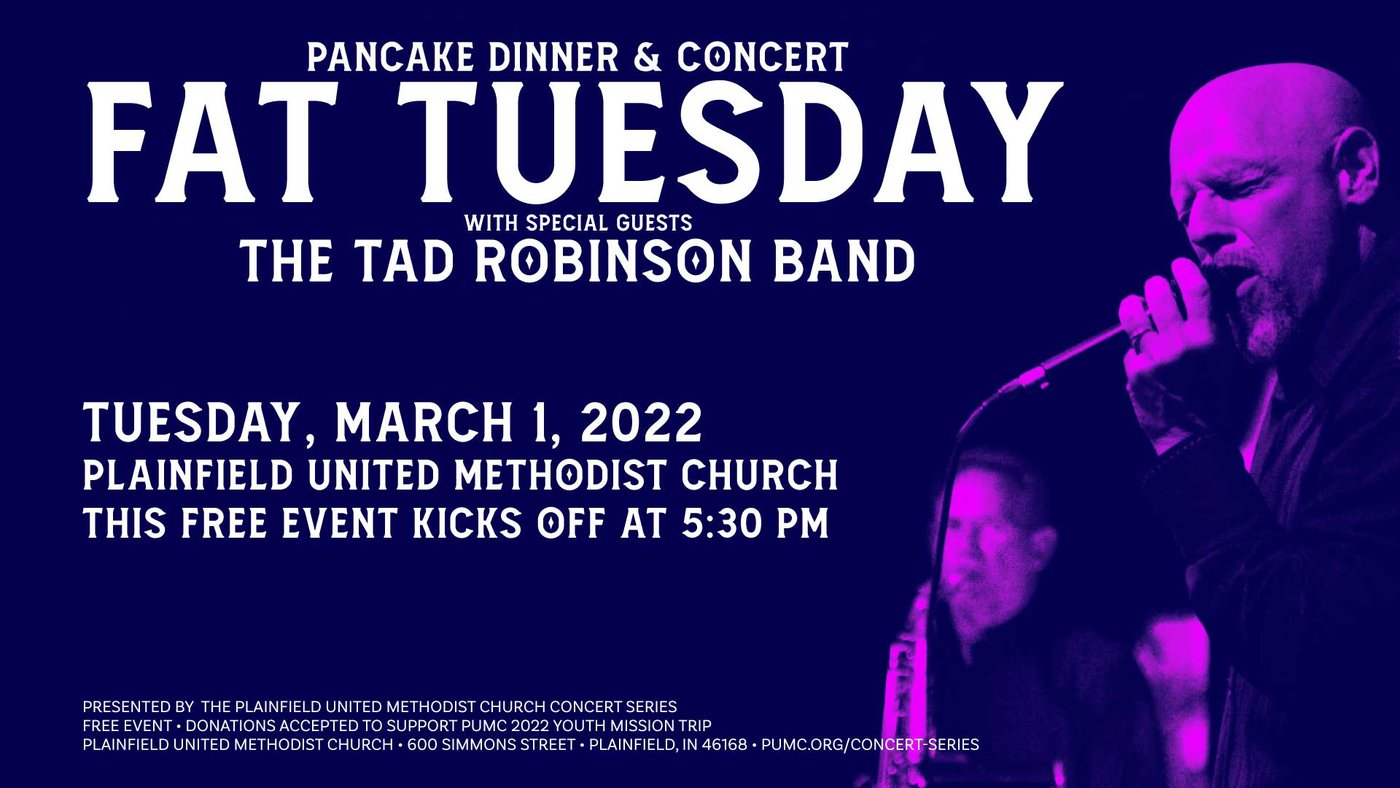 Fat Tuesday Concert & Pancake Dinner with Special Guests the Tad Robinson Band
TUESDAY, MARCH 1, 2022
THIS FREE EVENT KICKS OFF AT 5:30 p.m.
"Robinson sings with a range and smoothness of delivery that are exquisitely evocative." - Mojo Magazine
The PUMC Concert Series is pleased to present a Fat Tuesday Concert & Pancake Dinner with special guests, the Tad Robinson Band, on Tuesday, March 1, 5:30-7:30 p.m.
Bring your friends, family, and co-workers for a traditional Fat Tuesday meal of pancakes and sausage and enjoy the music of the Tad Robinson Band.
Free Event: Donations Accepted to Support PUMC 2022 Youth Mission Trip.
Enter door #14 for this event in Clayton Hall (far north end of PUMC).